Stucco Repair and Evaluation Services!!
One Call Home Handyman - Houston has worked with stucco problem investigation and repairs since the mid 1970's and has fostered relationships with tradesmen that can evaluate, repair, replace and solve most any type of stucco problem.
Typical Stucco Installations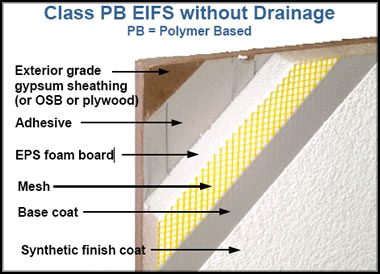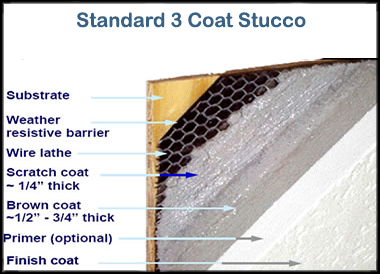 Synthetic stucco (EIFS or Exterior Insulating and Finishing System) and standard 3 coat stucco (hardcoat stucco) are both excellent products. They can protect your home as well, if not better than, any other type of exterior treatment provided they are properly installed and maintained. Problems that have been associated with stucco systems typically have much more to do with the original installation of the systems, rather than the product itself. A MoistureFree Protocol Inspection will reveal these problems and provide the information necessary to correct any problems that are discovered. After appropriate modifications have been made, proper maintenance and inspection of the system will provide years of useful life.
What is EIFS?
There are many different types of stucco on the market, but the most common types are hardcoat stucco and EIFS or synthetic stucco. EIFS stands for Exterior Insulating and Finishing System and is commonly known as EIFS. EIFS originated in Europe and was introduced into the United States in the 1960s.
There are different types of EIFS, but the most common type used on residential construction is called PB EIFS. The "PB" stands for polymer-based which indicates that the coatings of the EIFS contain a substantial amount of polymer (plastic resin) that strengthens and seals the coatings. Most PB is comprised of EIFS three layers that are applied to the exterior wall in three individual steps.
The first element is the insulation layer, which is made of expanded polystyrene usually ¾" to 4" thick. The insulation is attached to the exterior of the home using either liquid adhesives or mechanical fasteners. Once the insulation has been attached, the base coat of the EIFS is applied to the insulation. The base coat is applied over a layer of reinforcing fiberglass mesh that strengthens the coating. The finish coat is applied on top of the base coat and contains the desired exterior color and texture.
What is Hardcoat Stucco?
Hardcoat or traditional 3 coat stucco has been used for hundreds of years, but was typically applied to concrete, cement, or other surfaces that were not susceptible to water damage. Wood frame homes with hardcoat stucco are at risk of moisture damage very similar to the problems with EIFS synthetic stucco. Hardcoat stucco is applied to the exterior of the home using a wire mesh that is attached to the home. The hardcoat stucco is similar to fine cement and is applied to the wire mesh using a trowel. The color of the stucco is either in the stucco itself or is applied with a finish coat that is applied over the stucco base.
What Causes Most Of The Problems With Stucco?
EIFS was originally intended to seal and insulate the exterior of the home from the elements. Problems occur when poorly installed or missing caulking and flashing allow water to leak into the space behind the system. Since the systems were designed to keep moisture out, moisture that does penetrate the system has no way to escape and remains trapped within the wall.

Many stucco systems have never been caulked and are missing important flashings that can prevent the majority of moisture from penetrating the system. Windows have proven to be a major source of moisture penetration in stucco homes due to gaps or cracks in their construction. Double hung windows are typically the worst type of window for allowing moisture into the wall cavity. It is important to remember that even a little moisture can present a substantial risk since it can sometimes take many months for the moisture to dissipate from a stucco system. Typically, moisture will continue to penetrate the stucco before the existing moisture has had enough time to dry out. This causes the support wood to be exposed to moisture on a continuous basis, which will eventually causes the wood to rot.

Hardcoat stucco does not seal the home as thoroughly as EIFS, and some of the moisture that penetrates the system is able to evaporate through the hardcoat stucco itself. However, hardcoat stucco will tend to have almost identical problems to EIFS. Flashing locations and windows can allow moisture to enter the wall cavity thereby damaging the structural wood. When moisture regularly penetrates the hardcoat stucco, the wood structure behind the stucco often remains wet on a continuous basis. The constant presence of this moisture causes the wood to eventually rot.
Are Stucco Homes The Only Homes With Moisture Problems?
No. It is important to remember that moisture problems found in stucco homes are often present in homes clad with brick, wood, vinyl and other claddings. Because it is more difficult to test these types of homes for moisture, it is incorrectly assumed that these homes don't have the potential for moisture problems.

Moisture does more damage to all homes in the United States than fire, termites, flooding and other types of damage combined. All homes should be inspected to assure that the proper protection from moisture is in place.
Our goal is to maintain or show you how to properly maintain your historic home and windows in order to allow them to last another 75 or even 100 years. In addition, by providing proper maintenance for your historic home and windows, you will reduce your overall cost of ownership and enhance the value of your home.
If you would like to get more information or see how we can help you investigate and/or repair your stucco problems:
NOTE:
We charge a fee of $130 to come to your home or office, evaluate your stucco issues and make recommendations on how to best solve your stucco problems. This fee will be credited to your account if we do work on your stucco.
If you do not wish to fill out our on-line form just:



If you happen to be outside the greater Houston calling area, call us toll free at 1(800) 606-9453.