Stone and Natural Product Countertops & Floors!!
Need granite or stone countertops? One Call Home Handyman has worked with stone and natural product countertops since the mid 1970's and has fostered relationships with tradesmen that can install any type of natural stone product countertop in your kitchen, bath or wet bar. The type of product (i.e. marble, granite, onyx, quartz or limestone} is not relevant, but your design and tastes are!!
The beauty of natural stone is legendary. From countertops to flooring, natural stone can turn an ordinary room into a showplace. Our natural stone products include granite, marble, travertine and quart, and we offer these items in a variety of colors, shapes and designs. From prefabricated and custom countertops, we offer our customers the largest and finest selection.
Although there are many countertop choices in the market, we believe granite is the superior choice. Stunning and stylish, granite countertops are the perfect addition to any kitchen or bathroom; blending well with both contemporary and traditional styles. It defines elegance in any area and contributes to the beauty of even the most modest kitchens or baths. Products made of natural stone will not depreciate with time and will add value to any property. There is no surface as distinct and unique in its beauty as natural stone. The durability of natural stone is also one of the main reasons it is selected.
In addition to withstanding high heat and traffic, stone such as granite is naturally resilient to scratches. Our granite is pre-fabricated at the manufacturer to save you both time and money. Our prefab granite countertops come in standard countertop and island sizes that will minimize waste and cost. With the edges already finished, your fabricator only needs to cut the granite pieces to length and add sink or cooktop cutouts prior to installation. Reduced fabrication and material costs saves you money. Our selection of 50 granite/quartz colors, imported from countries such as Brazil, China and India, gives you a diverse selection to suit your every need. Click the button below to see our 50 granite/quatrz color selection:

Granite/Quatrz prices very from $44.50 - $58.50 per sq.ft.*, depending upon which of the 50 granite/quatrz colors you select. If slab granite or quartz, or quatrz pre-fab is selected, the price increases by $22.50 per sq. ft. on slab products and $4 per sq. ft. of pre-fab quartz for the labor and material prices depend upon the color selected.
*All pricing includes labor to remove your old countertop, deck with plywood, install new granite, and includes one sink cutout and a stainless steel 50/50 or 60/40 under mounted sink or ceramic China sink /w drill for single handle or 8" centerset faucet. Additional cutouts for sinks, cooktops or ranges are $175 each. Special fabrication, islands and pass throughts are extra as well.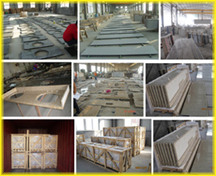 According to the WikiHow.com, "Granite is both durable and beautiful and does not require much maintenance". Sadly, most people do not maintain their granite or natural stone countertops at all. Even though natural stone is durable, scratch resistant and beautiful, it does require some regular maintenance.
If you would like to get more information or see how we can help you add natural stone beauty to your kitchen or bath,
NOTE:
We charge a nominal fee of $130 to come to your home or office, evaluate your needs and make recommendations on the best product and color for your project. This fee will be credited to your account if you select us to do the work on your home or office.
If you do not wish to fill out our on-line form just:



Want to see some of work? Click Here
If you happen to be outside the greater Houston calling area, call us toll free at 1(800) 606-9453.